Your Competition Uses Video Marketing and So Should You
Videos have revolutionized the way businesses today approach online marketing. The remarkable rise in video marketing has inundated the online landscape, sharing footage, covering just about everything you can imagine. Want to find out more about a business? Watch a businesses' culture video on their social networks or website. Need to refresh your employee training videos? No time like the present. It's absolutely incredible how video has made life easier for both businesses promoting their products and services, as well as individuals looking for help or advice.
Following are a few statistics that emphasize the effectiveness of videos.
Online video now accounts for 50% of all mobile traffic.
Video is estimated to claim over 80% of all web traffic by 2019.
Embedding videos in landing pages can increase conversion rates by 80%.
Video posts generate 135% higher organic reach than photo posts on Facebook
Approximately 87% of online marketers use video content as part of their digital marketing strategy.
Forrester recently reported that including video in email campaigns results in a massive 200-300% boost in click-through rates.
An impressive 60% of online marketers are using video in their marketing and a whopping 73% anticipate increasing their use of video promotion.
When you consider the statistics, it's obvious that video marketing is essential these days and you can bet that this factor isn't being ignored by today's successful businesses. The goal of any business today should be to interact with their target audience. Videos are the most effective way to tell your unique story.
Following are a few easy steps to follow to create a reasonable looking marketing video yourself – if the DIY route is what your budget demands.
Pick up your smartphone or tablet.
Attach it to a tripod. While the size of the tripod isn't important, you should invest in something sturdy since your valuable mobile device will be attached to it. You'll also want the camera to be set at eye level when you're filming. Tripod's usually run $30 and up.
If you plan on making your own marketing videos, buy a Lavalier microphone (a small mic that can be clipped onto your clothes for hands free operation). You can get a good one online for about $20.
The mobile device you're using should be held horizontally as often as possible and you should frame the subject in a medium shot, focusing on the object/person in the video. You can always make adjustments. It's also a good idea to avoid busy backgrounds.
At this point you should already know what you're planning on saying and have it memorized. Now, hit record and start talking, telling your audience who you are, that you're an expert in your industry, show them how you can solve their problem and end it with a call to action (CTA). Aim for at least 2 minutes for optimal engagement.
However, if a professional, high quality video production is what you're looking for…. There's no substitute for expertise. Professional production considers all aspects of the end result – lighting, setting up the shot, sound quality, makeup, and more. A good team consists of a director, cameraman, assistants, script writers, makeup artists, models, extras, etc. It all depends on the purpose of the video and the level of quality you need.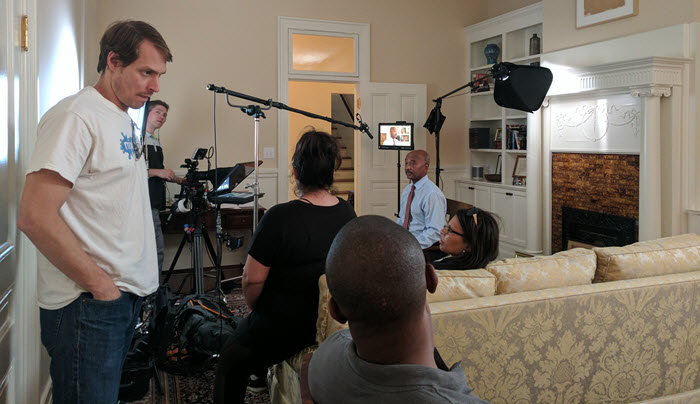 It's also important to remember that publishing a video isn't the last step in the process. From there you need to monitor each video's performance, always looking for opportunities to improve during the testing period if you're not satisfied with the results. Reviewing and analyzing data will help you produce a video marketing strategy that works, motivating viewers to engage and take action – improving your bottom line.