Facebook's Dynamic Ads are Getting Real… Estate Specific
Facebook changed the game for real estate advertisers this week after releasing Dynamic Ads for Real Estate on Monday, a new version of their Dynamic Ads product and the first specifically for the real estate industry.
Dynamic Ads were introduced to the Facebook advertising platform in 2015, originally created for e-commerce retailers to advertise their products directly on Facebook and Instagram. Over the last year, however, Dynamic Ads are becoming industry-specific, catering to hotels, airlines, and now realtors. In the case of Facebook's Dynamic Ads for Real Estate, the ads are tailored to – you guessed it ­– real estate shoppers.
Dynamic Ads for Real Estate are ads designed specifically for home listings. Each ad features a listing that includes an image of the property, its address, price and availability, with the option to add more information (the number of bedrooms and bathrooms, property type, whether it is for sale or rent, and if it has been newly constructed). Ads are served in a slideshow format that allows users to scroll through listings that, when clicked, lead directly back to their respective home on the firm's website or app.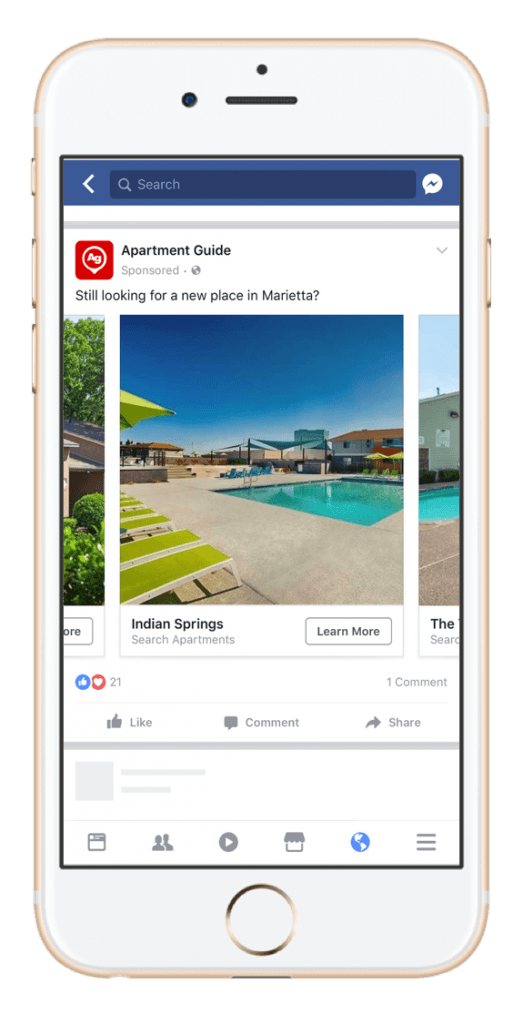 The magic comes from the integration between Facebook's Dynamic Ads and each brokerage firm's internal data system. Facebook imports listing data directly from the source, and updates ads automatically to ensure that they are always accurate and up-to-date.
It gets better. Facebook's Dynamic Ads for Real Estate leverage cross-device intent signals to automatically promote relevant listings from real estate inventory. Gone are the days of simply retargeting Facebook and Instagram users to show the same listing repeatedly. Now, users are being delivered ads for listings they may have never seen before based on what they have searched for previously.
It's all in the integration: Facebook utilizes the search parameters set by each user and factors in this data in when delivering ads. That means that when a potential home buyer conducts a search on a real estate broker's website or app, Facebook will serve them the ad listings that most closely resemble their search preferences. Thanks to Facebook's smart integration, the campaigns continuously scour the website's inventory for the most relevant and appealing listings and customize ad delivery to the most qualified viewer.
The new tool allows real estate brokers to target potential home buyers in a whole new way. As advertisers, we're not only able to utilize Facebook's incredibly robust targeting features – we can now plug directly into each firm's specific market while making incredibly efficient use of ad dollars.
The bottom line is: your buyers are on Facebook. If you're not using every tool in your arsenal to connect with them, you're leaving money on the table. Need help making sense of it all? Give us a shout!