The Multi Touch Point Experience & How Analytics Plays a Crucial Role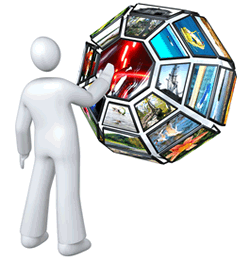 By now, most of us have experienced sitting there, watching our favorite TV show when we see a cool commercial. Smartphone or tablet in hand, we head to Google and search for more info on the product. When viewing the results, we notice a YouTube video that we watch. The YouTube video includes a link to the company's website where we see the product, are offered a discount and ultimately, make the purchase. What just happened!?
This is an example of a campaign that has spanned about five different touch points – TV, mobile, search, video and finally the website. Brands need to pay attention to consumer behavior. Gone are the days of one or two touch points. Now we have smartphones and tablets, laptops, desktops and netbooks. We watch TV on smart TV's but also on our phones commuting to work on the train. The reach a brand has is endless, but they must be mindful of the mediums and their unique experiences.
You would not create the same layout for a landing page on a smartphone with a small screen as you would for a tablet or laptop. Consumers will use these devices in many situations that include both home and on the go. How do you decide what content to push when? That is a more complicated question to answer. The goal of this post is to get you thinking of strategy development.
Start simply by reviewing your analytics. Can you answer the question: "What percentage of your traffic comes form mobile devices?" Good. Can you tell us which devices? How about sales? What channels are driving the most sales? Is that last click of first click? How does social media fit into the process? These are just some of the questions you can answer with good analytics analysis. Create a solid strategy and you'll be able to measure performance and to some extent, predict future results.
Mixed Digital Asks:
Do you have a marketing analytics strategy?
It's a social web – don't forget to share and comment.

_ _ _ _ _ _ _ _ _ _ _ _
Mark Simmons is an versatile digital marketer with global experience and a penchant for the analytical. He was trained in the agencies of NYC and holds a degree from Duke University. He resides in Durham with his family.
_ _ _ _ _ _ _ _ _ _ _ _
Download our PPC whitepaper: