Super Bowl Mobile Scorecard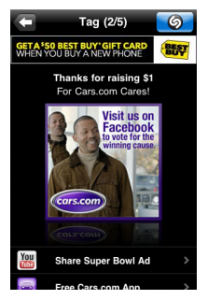 The Super Bowl is best known for the clash between the NFL's top two teams battling for their place in sports history. It is also a huge stage for advertisers. Non sports fans with no interest in the game will tune in just for the ads. Marketing industry folks, like ourselves, take things a step further and analyze the ads against specific measures like creativity and the use of  digital marketing.
As our follow up to Measuring Super Bowl XLVI, we decided to focus our report on how advertisers leveraged mobile advertising to provide a richer experience and extend the engagement form their ad spots. Some brands got it, others missed opportunity. What we found was rather surprising:
23% of brands used mobile (in some form)
Only 8% of brands used mobile IN their ad
13% of brands didn't use any digital references at all!
Download the full report using this link: Mixed Digital Super Bowl Mobile Scorecard(PDF)