Where Does Your Branding Stand?
A business's brand is far more important than the company name or slogan. Your brand is an expression of your quality, unique vision and values. When done right, branding cements you in the minds of your potential and current clients. It makes it easy for consumers to understand what you do and who you are. Bottom line, branding speaks to your ideal customer, resonating with the individuals who will most appreciate what you have to offer and makes you stand out from your competitors.
Brand differentiation is an absolute must in today's competitive market, but it's hard to figure out where to start if marketing isn't your forte. Developing a brand that stands out calls for meticulous planning, and execution. Where does your branding stand at the moment? If you're struggling, there are several tactics you can use to help your brand achieve a prominent position above your competitors. Each one of the following tactics has worked well for countless businesses.
Brand Clarity
For a brand to stand out and be meaningful, it needs to connect with your company's reason for existing besides to generate an income. Ask yourself these questions; Why did you start your business? How will it make the world a better place for your clients? What do the results of your efforts look like 10 years from now? If you don't have a firm grasp of your brand's purpose, you won't be able to communicate what's special and important about your business.
Attention to Detail
Being attentive to all of the little details that quite often are overlooked by business owners is a fantastic way to make your brand stand out. Things like your website, social media presence, the user experience you provide, how quickly you respond to email and even how you dress should ALL mirror your unique brand. Look at all the different elements of your business … can you think of a unique way to personalize all of the different, even minor details?
A Cohesive Brand Presence
Do all of the elements that make up your brand combine form a clear and cohesive brand presence (your voice, the vibe, fonts and colors)? If they don't what your brand stands for will be confusing. And you know what? Strong brands are never confusing.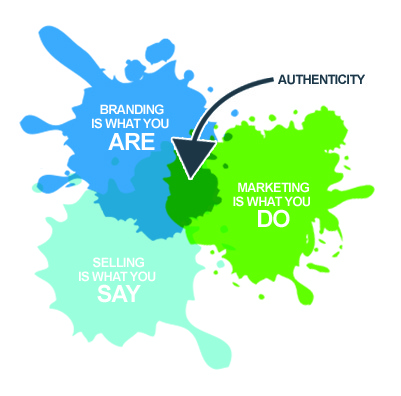 Adopt Emerging Trends
Always look for ways to add something new to what you are offering by introducing new products, upgrades and solutions and adopting emerging technologies and marketing strategies. For instance, take advantage of mobile apps and social media because today's consumers are and they're almost always connected to their mobile devices. These socially driven attention-grabbers are helping businesses stand out from the crowd, however, to get results the primary product or service needs to be up to par.
Provide Stellar Customer Service
If you treat your customers like royalty, your brand can't help but stand out. Consumers expect great service and aren't likely to put up with poor quality customer service and they'll quickly post their grievances online for the world to see if they're not happy. Approximately 75% of consumers have said that they consider customer service a true test of a business's competence.
Business Blogging
Most forward thinking businesses have recognized the benefits of blogging. In today's online focused world, you need to have an innovative way to have your voice heard and share ideas – blogging is the perfect way to do this. You can write the posts yourself, have your employees regularly contribute or hire outside writers to provide it. Regardless of how you come up with the content, make sure that it's quality, original content and isn't just promotional which will drive visitors away. Focus on posting entertaining, educational and insightful content. Also, create an archives section on your blog, making it easy for new readers to check out all your content.
Standing out from the crowd isn't an easy task, and it's becoming more challenging all the time. Adopting a few (or all) of the tactics listed here will help you make your brand stand out. If you don't feel like you have the time or feel that marketing or building a strong brand presence isn't in your wheelhouse, consider hiring a consultant or agency to help you clarify and build your brand. Professionals will also be able to help you avoid spinning your wheels and wasting time and money on ineffective tactics. Give us a shout by contacting us here.