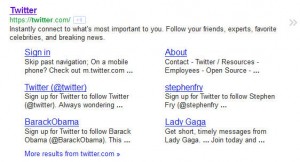 There are so many tips and tricks to good PPC management. Some are obvious while some are buried in the interface. One trick is the use of site links.
Site links allow you to highlight additional pages of your website. In doing so, you increase the exposure of your brand and its products or services. You also increase the likelihood that someone will click on your ad. It's a great strategy to take up more space on the SERP as well.
On the analysis side, the activity from site links is easily tracked in the Google Adwords interface. Find it under Ad Extensions and you'll be able to see impressions, clicks, conversions, etc. It's a great way to test different pages and make optimizations based on the results.
To setup site links simply go to the Ad Extensions section and add a new extension. Indicate the title and page URL and you're all set. You can create a number of site links, but there is a limitation on how many can be shown at once. Try different combinations across campaigns and test the results for best performance.
This is what we do for a living. If you have questions on site links or any other PPC topics, please contact us. We'd love to hear from you!
It's a social web – don't forget to share and comment.

———————————–
Download our PPC whitepaper: