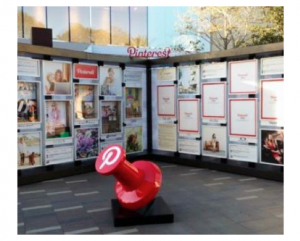 A California mall recently added what may be the first real-life Pinterest board, and it's a clear example of how the digital world can be connected to the physical world, like we've seen with toys made for apps and products based on apps. It also brings up some interesting strategic points that may be of interest to digital companies.
The board—located in Westfield UTC mall in La Jolla, CA—features items from retailers within the mall. It includes an interactive element by being tied to Pinterest's site, where consumers can win all the items on display by making their own "Everyday Escape" board and pinning five items from the mall's own board of the same name, with each pin tagged as #WestfieldUTC.
This crossing from the digital into the physical can be important for digital companies for two reasons:
1.    It presents your products in a new way.
Your consumers are used to seeing your products in digital form, whether that be through an app or a Web site. Showing them a physical representation of what you've created helps give your products a fresh new take, which will hopefully renew or increase interest in your brand.
2.    It presents a different way for consumers to interact with your products.
New ways of interaction can provide business opportunities that were formerly unavailable. Not only that, but it allows you to increase the scope of your brand and reach new consumers.
Not every digital company is going to need to make the jump into the physical world in terms of their brand and products, but it seems that doing so is a growing trend, and one that could pay off for companies if done correctly. And since not everyone is doing it, having more physical products could be a way for you to differentiate from the competition.
Would you ever use a real-life Pinterest board?
It's a social web – don't forget to share and comment.

_ _ _ _ _ _ _ _ _ _ _
Paul Joe Watson holds an MA in Communication Studies and Mass Media, a bachelor's degree in Advertising/Public Relations, and is the author of "Protect: A World's Fight Against Evil", a novel published in 2009. He's written several essays and articles for both print and Web publications. He currently resides in North Carolina. You can read more at PaulJoeWatson.com or follow him on Twitter: @pauljwats0n.
_ _ _ _ _ _ _ _ _ _ _
Download our PPC whitepaper: