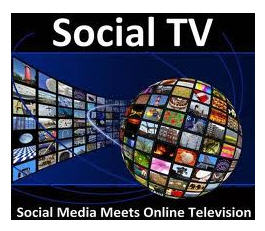 It never ceases to amaze us how trends in our industry both emerge and grow at a break neck pace. If you've been paying attention to some recent high profile television events lately, you'll have noticed that there's a new trend emerging: the second screen experience or Social TV.
What is Social TV?
Social TV (featuring one more screen than just a television) is the real-time interaction of television viewers sharing their thoughts and opinions about live (or recorded) television events. Thanks to devices like the iPad and Smart Phones, the television watching experience is becoming increasingly 'social' or even augmented.
At Mixed Digital, we are continually analyzing how Digital is influencing the world and peoples' lives. In particular, we are analyzing how Digital is altering the marketing industry and particularly in the worlds of entertainment, lifestyle, and hospitality. As we looked at the Super Bowl (Mobile Scorecard), the Grammys (Social Media Water Cooler) and more recently the NBA All Star game, and Oscars, we'll analyze some of these trends.
NBA All Star Game
Throughout the recent NBA All Star Weekend in Orlando, tweeting was encouraged for both players and the television to raise the level of interaction and buzz for the event. Hash tags were mentioned during all of the all-star weekend events, including the Sprite sponsored slam dunk competition. For the first time ever, the winner of the Slam Dunk Competition was decided based on text messages and tweets with the hashtag #spriteslam and the players last name.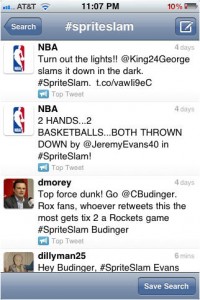 The NBA, like many other professional sports leagues is hopping on the social media band wagon. Currently, the NBA reaches 200 million fans worldwide through Twitter and 14 international Facebook pages. In one year alone, the NBA grew from 1 million social media followers in China to a staggering 41 million! We're pretty sure the recent #linsanity regarding New York Knicks phenom, Jeremy Lin had something to do with this. If you watched the broadcast, you would have even noticed that players' tweets were actually displayed over the players sitting in the stands.
In regards to marketing, there were sponsored promotions by Kia highlighting a YouTube Video featuring Blake Griffin. Additionally, we discovered  ads by State Farm promoting the Jam Session.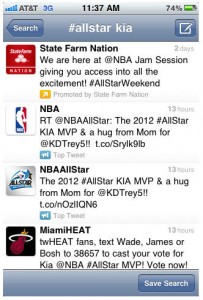 The Oscars
The 84th Annual Academy Awards took the Social TV experience to another  level with the creation of a mobile app, exclusively designed for the Oscars viewing experience. There were multiple sections including back stage view, voting for your movie picks, integration with Facebook and Twitter. While there rave reviews for the app, some felt that it was distracting to some degree.
http://www.fosters.com/apps/pbcs.dll/article?AID=/20120229/GJLIFESTYLES/702299993/-1/SANNEWS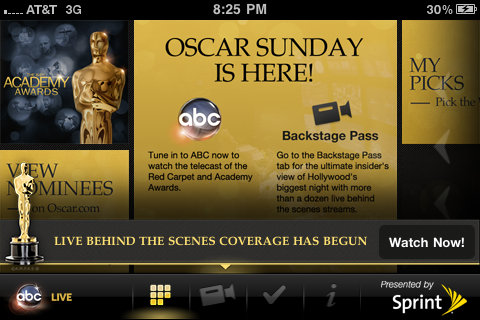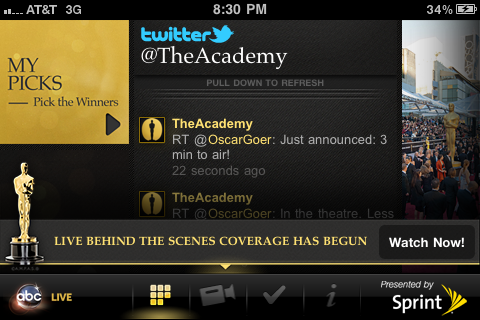 Anticipating Results & Measuring Sentiment
Hashtags are Twitter's way of segmenting conversations, making it easy to search for topics of interest. On the red carpet, mentions of the Twitter hashtag #bestdressed were used to vote for the best dressed celeb. During the broadcast itself, we observed prominent placement of the hashtag #oscars to drive the conversation. Measuring sentiment, as it was with the Grammys, was also a part of the Social TV experience. In fact, Search juggernaut Google utilized search trends to try to predict the winners; however, their methodology proved inaccurate :
http://searchengineland.com/google-yahoo-both-fail-at-moneyballing-oscar-predictions-113067
While Money Ball was the projected winner through Google insights for search, 'the Artist' proved otherwise by winning award for Best Picture.
Trendrr estimated that there were some 4.2 million examples of social media action during the Oscars on Sunday — such as tweets on Twitter and posts or likes on Facebook. That more than doubled the 2.02 million estimate from last year's Oscars, Trendrr said.
Is the second screen experience distracting?
According to an article from Boston.com, it is. Chris Thonis from Trendrr had this to say as well, "it illustrates the growth in social media as well as the tendency of people to comment online with their friends as they share the experience of watching on TV." Do we think its distracting? Well, as passionate members of the industry, we may be a little biased. We're used to multi-tasking so this is really no different than our normal routine. 4M social media comments may sound like a large number, but it paled in comparison with the 17.47 million examples of social media activity during the Super Bowl earlier this month, and the 17.12 million for the Grammys.
Engaging Audience, Creating a Feedback Loop
Back about ten years ago, we would've never thought that the television, often labeled as antiquated and fading  medium, would welcome the emerging medium of Digital advertising. It appeared that those traditional media buys would be lessened due to increased spend and the measurable nature of Search. However, we're seeing that Social Media is becoming an effective way of gauging ratings for television. Additionally, it serves as another channel to reach that target audience. Whether it's the #spriteslam dunk competition or voting for #bestdressed, social media is measuring the pulse of the audience and finally creating a feedback loop broadcasters have long sought.
What's next… Radio?
It's a social web – don't forget to share and comment.