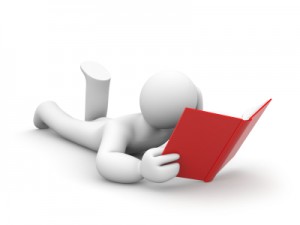 The field of marketing requires continuous study. Take digital marketing, for example: there are new search tactics, mobile devices, and a seemingly endless amount of social media sites. So what do we do? We read. We study. We learn what we can so we can be the best at our craft. But to make the material stick, we often need to contemplate it—an obvious, yet often neglected practice.
When we contemplate something, we repeat it over and over in our minds. And repetition is one of the oldest forms of learning, and therefore, retention. But in what ways can we use contemplation to retain the information we've just read?
Here are a few tips:
1.    Take time to think about what you've just read.
Don't rush to the next book or article. Pause. Take time to review the material in your mind, making sure you understand what you've read. If you realize you don't understand something, go back and reread it.
2.    Talk over what you've read with others.
Whether this is a coworker, friend, or spouse, try to talk about the things you've learned. Doing so will help ingrain the material in your mind.
3.    Write about what you've read.
Blogging is an often-used means of doing this. Yet even if you don't blog, you might consider making a topical document on your computer and jotting down some of the learned information there, allowing you to use it in the future when you need a refresher. Then again, you could use the time-tested instruments of pen and paper to record your musings.
4.    Post bits about what you're learning via social media accounts.
Put a link to the article you've read on your Facebook page. Write a sentence or two about what you've learned and post it to Twitter. This not only allows you to reference the information for the future, but it helps to add more to the experience of learning.
Contemplation may not be as quick and as easy as a speed-read through a book or article, but it will increase your rate of retention. After all, what good is knowledge if it is forgotten?
Mixed Digital Asks: What tricks do you use to remember what you've read?
It's a social web – don't forget to share and comment.

_ _ _ _ _ _ _ _ _ _ _
Paul Joe Watson holds an MA in Communication Studies and Mass Media, a bachelor's degree in Advertising/Public Relations, and is the author of "Protect: A World's Fight Against Evil", a novel published in 2009. He's written several essays and articles for both print and Web publications. He currently resides in North Carolina. You can read more at PaulJoeWatson.com or follow him on Twitter: @pauljwats0n.
_ _ _ _ _ _ _ _ _ _ _
Download our PPC whitepaper: